Mundane Information
Edit
Spyder joined Pointed Heart in 2012 after attending Here There Be Dragons. She has attended many events throughout the past years including Olympics, War, Ragnarok, Byzantium Opener/Anniversary and more. One of her favorite things to do at events is to take pictures and meet new people. Crafting, cooking, and games is very prominent in her Dagorhir life.
Titles and Awards
Edit
Associations, Chapters, and Units
Edit
Positions Held
Edit
Scribe of Pointed Heart
Character History
Edit
Pointed Heart members taught Spyder different forms of fighting with swords & shields. She has also begun learning how to hoop dance after making a trade with a half elf shifter who has been imparting the knowledge of the art. She is almost always barefoot and exploring nature.
Symbols, Heraldry, and Icons
Edit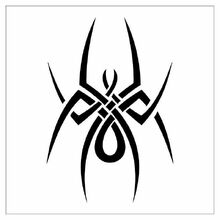 Symbol is generally portrayed as a tribal spider knot in silver on a purple field.
Fighting Styles
Edit
Sword & Board
Florentine
Archery
Alternate Personas
Edit
N/A